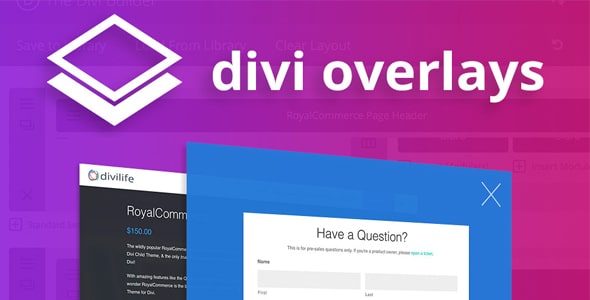 Overview
Divi Overlays is a brand new way to create beautiful full screen overlays, popups, or modals using the Divi Builder. Divi Overlays takes advantage of the power and flexibility of the Divi Builder which gives you the ability to easily add any type of content imaginable to an overlay, then trigger it with anything on the page: text links, images, Divi buttons, etc. Or use an automatic trigger such as timed delay, scroll delay, or exit intent!
Why choose HOTTHEME.NET?
We choose to purchase Themes/Plugins with standards Most Popular/

Trusted/Best Selling

 on the market.
We stay tuned and regularly lay out a fresh versions of Themes/Plugins. If you can't find the latest version of the product on the site, please contact us.
Our prices are much lower than developers. Fast and secure payments.
You have the opportunity to purchase a premium product at an affordable price!
100% clean original files without implemented advertising, viruses or malicious code. We are trusted by thousands of customers around the world!
Download all Themes/Plugins free for Member Club, Join Now!
Unlimited downloads, you download the product directly from our website without any waiting and advertising!
Unlimited use, you can install them on any site with full premium features available.
Free lifetime updates for single purchase or until cancelled your subscription.
All Themes/Plugins presented on the website are released under GNU General Public License.
Status
Plugin has been activated to use premium features.
Changelog
v2.8.8.1 - Jan 9, 2020
Changelog: https://divilife.com/knowledge-base/divi-overlays-changelog
Installation
Sorry. No videos in this tab yet