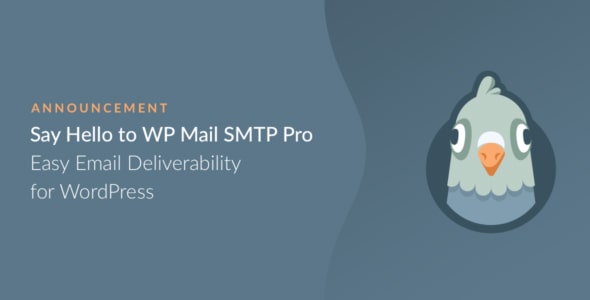 Overview
Having problems with your WordPress site not sending emails? You're not alone. Over 1 million websites use WP Mail SMTP Pro to fix their email deliverability issues.
WP Mail SMTP Pro make email deliverability easy and reliable. 100% your emails reach the inbox.
WP Mail SMTP Pro fixes your email deliverability by reconfiguring WordPress to use a proper SMTP provider when sending emails.
This is WP Mail SMTP Pro version, already activated to use full premium features.
Why choose HOTTHEME.NET?
We choose to purchase Themes/Plugins with standards Most Popular/

Trusted/Best Selling

 on the market.
We stay tuned and regularly lay out a fresh versions of Themes/Plugins. If you can't find the latest version of the product on the site, please contact us.
Our prices are much lower than developers. Fast and secure payments.
You have the opportunity to purchase a premium product at an affordable price!
100% clean original files without implemented advertising, viruses or malicious code. We are trusted by thousands of customers around the world!
Download all Themes/Plugins free for Member Club, Join Now!
Unlimited downloads, you download the product directly from our website without any waiting and advertising!
Unlimited use, you can install them on any site with full premium features available.
Free lifetime updates for single purchase or until cancelled your subscription.
All Themes/Plugins presented on the website are released under GNU General Public License.
Status
  Plugin has been activated, access premium features.
Changelog
v3.1.0 - Sep 28, 2021
### Added:
– New transactional mailer: Postmark integration.
– Email Log: added CC and BCC columns to the table.
– Support for string attachments (added via PHPMailer object).
### Changed:
– Improved Weekly Email Summary Setup Wizard control.
– Improved Email Source detection in Debug Events and Email Log for WP Core sent emails.
– Improved uninstall process. It now removes all plugin DB data and tables.
### Fixed:
– Email Source detection in Debug Events and Email Log for file paths with backslashes.
– Amazon SES automatic closest region detection (keycdn API request).
– Added SSL check for Amazon SES and Outlook mailers in the Setup Wizard.
– Blurry image assets in Weekly Email Summary.
– PHP extension mb_strings not polyfilled correctly.
– New user registration email template for Email Controls feature.
– Added missing is_email_sent filters for Sendinblue, Mailgun, and Gmail mailers.
– Debug Events double-entry DB save, because of a bug in is_email_sent method for certain mailers.
– Network subsite switcher in WP Multisite installations with subdomain configuration.
Installation
Documentation: https://wpmailsmtp.com/docs/