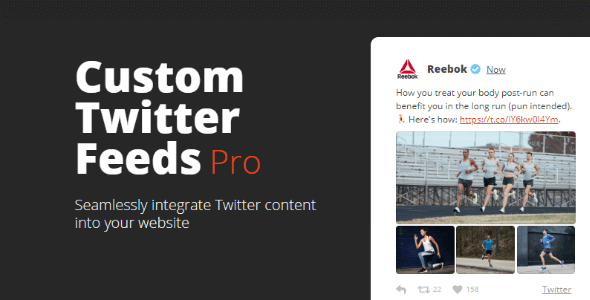 Overview
Custom Twitter Feeds Pro – Customizable Twitter feeds for your website
Why choose HOTTHEME.NET?
We choose to purchase Themes/Plugins with standards Most Popular/

Trusted/Best Selling

 on the market.
We stay tuned and regularly lay out a fresh versions of Themes/Plugins. If you can't find the latest version of the product on the site, please contact us.
Our prices are much lower than developers. Fast and secure payments.
You have the opportunity to purchase a premium product at an affordable price!
100% clean original files without implemented advertising, viruses or malicious code. We are trusted by thousands of customers around the world!
Download all Themes/Plugins free for Member Club, Join Now!
Unlimited downloads, you download the product directly from our website without any waiting and advertising!
Unlimited use, you can install them on any site with full premium features available.
Free lifetime updates for single purchase or until cancelled your subscription.
All Themes/Plugins presented on the website are released under GNU General Public License.
Status
  Plugin has been activated, access premium features.
Changelog
v2.0
* Important: Minimum supported WordPress version has been raised from 3.5 to 4.1.
* New: Our biggest update ever! We've completely redesigned the plugin settings from head to toe to make it easier to create, manage, and customize your Twitter feeds.
* New: All your feeds are now displayed in one place on the "All Feeds" page. This shows a list of any existing (legacy) feeds and any new ones that you create. Note: If you updated from a version prior to v1.13 then you may need to view your feeds on your webpage so that the plugin can locate them and list them here.
* New: Easily edit individual feed settings for new feeds instead of cumbersome shortcode options.
* New: It's now much easier to create feeds. Just click "Add New", select your feed type, connect your account, and you're done!
* New: Brand new feed customizer. We've completely redesigned feed customization from the ground up, reorganizing the settings to make them easier to find.
* New: Live Feed Preview. You can now see changes you make to your feeds in real time, right in the settings page. Easily preview them on desktop, tablet, and mobile sizes.
* New: We've added a new Feed Templates feature. You can now select a feed template when creating a feed to make it much quicker and easier to get started with the type of feed you want to display. Selecting a template preconfigures the feed customization settings to match that template, saving you time and effort.
* New: Color Scheme option. It's now easier than ever to change colors across your feed without needing to adjust individual color settings. Just set a color scheme to effortlessly change colors across your entire feed.
* New: You can now change the number of columns in your feed across desktop, tablet, and mobile.
* New: Easily import and export feed settings to make it simple to move feeds across sites.
* New: Added a Post Style setting which allows you to add a boxed style to your Tweets, with a background color, border radius, and box shadow.
* New: Added a new custom text header option, so you can now add custom text to the header for your feed.
* Fix: Fixed a PHP warning related to information for the header being empty.
* Fix: Tweets with quoted media were causing HTML errors and the feed layout would be affected.
Installation
Sorry. No videos in this tab yet