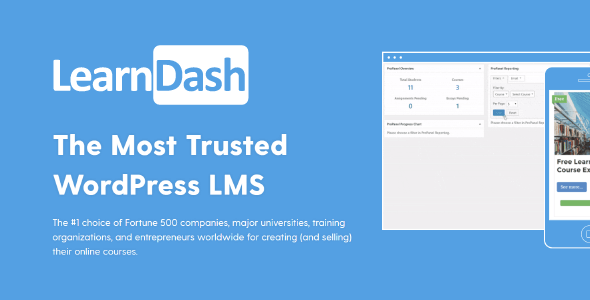 Overview
The Most Trusted WordPress LMS
The #1 choice of Fortune 500 companies, major universities, training organizations, and entrepreneurs worldwide for creating (and selling) their online courses.
LearnDash is the go-to choice for…
Higher Education. Major universities pick LearnDash for delivering and tracking online coursework.
Professional Training. From selling courses online to continuing education – LearnDash handles it all!
WordPress Projects. Developers & designers continually choose LearnDash for their clients.
Impressive Online Courses
Easily create & sell courses, deliver quizzes, award certificates, manage users, download reports, and so much more! By using LearnDash you have access to the latest e-learning industry trends for creating robust learning experiences.
Sell Your Courses. Simply set the price, choose the pricing model, and publish.
Drip-Feed Content. Automatically deliver content according to a predefined schedule.
Reward Your Learners. Deliver certificates, points, and badges to encourage learners.
Engagement Triggers. Interact with learners based on actions they do in your courses.
Manage Your LMS with Ease
With LearnDash you are always in control. Use the simple yet powerful administration capabilities to manage your users and courses with ease.
Control Enrollment. Set a course price, make them free, private, or members only.
Create User Groups. Group learners and assign a Group Leader to manage their progress.
Manage Learner Progress. Set the learning path, mark tasks complete, and review submissions.
Communicate Clearly. Send course specific messages and automatic email notifications.
Don't Just Sell Courses, Sell More Courses
After your course is complete then it's time to start selling! LearnDash's suite of tools will allow you to not just sell courses but to build a thriving business selling courses.
Use Any Pricing Model. One time sales, subscriptions, memberships, bundles, and more.
Any Payment Gateway. PayPal, Stripe, 2Checkout, and 300+ others with WooCommerce.
Renewal Reminders. Automatic renewal notifications. No renewal? Choose to remove access.
Refund Protection. Scheduled content to lower your refund rates and increase revenue.
Why choose HOTTHEME.NET?
We choose to purchase Themes/Plugins with standards Most Popular/

Trusted/Best Selling

 on the market.
We stay tuned and regularly lay out a fresh versions of Themes/Plugins. If you can't find the latest version of the product on the site, please contact us.
Our prices are much lower than developers. Fast and secure payments.
You have the opportunity to purchase a premium product at an affordable price!
100% clean original files without implemented advertising, viruses or malicious code. We are trusted by thousands of customers around the world!
Download all Themes/Plugins free for Member Club, Join Now!
Unlimited downloads, you download the product directly from our website without any waiting and advertising!
Unlimited use, you can install them on any site with full premium features available.
Free lifetime updates for single purchase or until cancelled your subscription.
All Themes/Plugins presented on the website are released under GNU General Public License.
Status
  Plugin has been activated. Addons included.
Changelog
v4.2.1.2 - June 30, 2022
Changelog: https://www.learndash.com/changelog
Installation
Documentation: https://www.learndash.com/support/docs/getting-started/